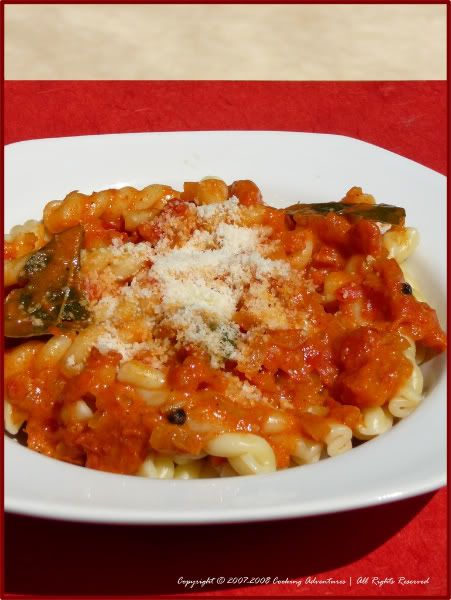 What do you do when you are left with a dozen tomatoes after using them in all kinds of soups, salads, sandwiches and more?
# 1: You vow to stay under control the next time you see these delicious red beauties at the market!
# 2: You create this extraordinary tomato cream sauce to please your family and almost make them forget that all they have been eating for the entire week has been tomatoes in various forms! Yeah, you have to make this sauce to believe that I am not exaggerating here. It is seriously a knock-out of a kind! Topped on any pasta or gnocchi, it offers a satisfying and easy to prepare meal, especially when you are super-tired. Our pasta tasted extra special because we ate this while watching Micheal Phelps take that 8th gold. And boy, is that man for real? What a win!
In ecstasy over this Phelps phenomenon, we helped ourselves to a few extra servings on this pasta! The freshness of the tomatoes added with the smoothness of the cream and two very dear spices, bay leaf and whole peppercorn, take this sauce to a whole new level!
And now before we go to the recipe, please tell me, what do you do when you are left with a dozen beetroots after using them in soups, salads, sandwiches and more? I know #1-- don't lose control when you see them at the market the next time. But for now, please help me with # 2 How about a spicy pink sauce for another pasta night?
Ingredients:
Serves 4
Pasta of your choice
2 tbs olive oil
2 tbs unsalted butter
2 medium yellow onions, finely chopped
3 cloves of garlic, finely chopped
2 1/2 cups finely chopped tomatoes
4 bay leaves
10 whole black peppercorns
3/4 tsp salt
1/4 tsp pepper
1 cup water, whey or vegetable stock plus more if needed
2 tbs tomato paste
1/3 cup heavy cream
Parmesan cheese for topping
Method:
Heat the olive oil and butter in a medium sauce pan. Add the bay leaves and peppercorn and lightly roast for a minute. Add the garlic and onions and saute for about 2 minutes.
Now add the tomatoes and cook until the tomatoes are soft. Add the tomato paste, water or whey or vegetable stock, salt and pepper and stir well. Simmer for about 3-4 minutes. Add the cream and simmer for another minute or two.
Cook the pasta as per the instructions on the box.
Serving:
Mix the sauce well with the cooked pasta. Top with some grated or powdered Parmesan cheese. I prefer to leave the bay leaves in the sauce but you can pull them out before serving.
I am sending this pasta over to my friend,
Ruth
for her weekly
Presto Pasta Night
event! Ruth is a wonderful lady and her event has given me the perfect pasta recipes for numerous dinners! I hope you enjoy this one, Ruth!