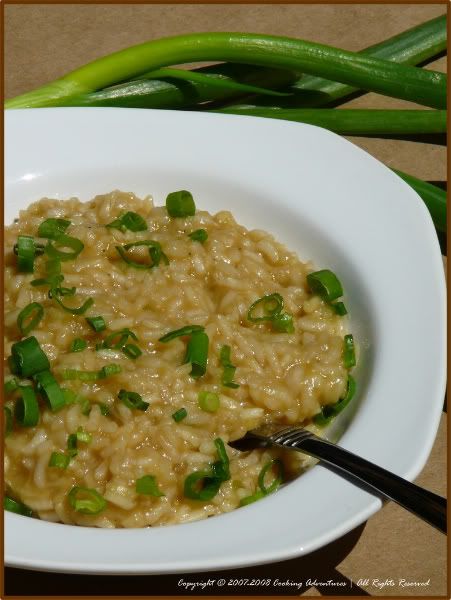 For us, weekday lunches are mostly quick meals made at home, and then boxed to take along to work. There are several reasons for this. First, I love to cook. Second, I am a big home-made food fan. Third, I like to know exactly what goes into everything that I eat and last but not the least, I need to write this food blog and come up with new recipes to keep up with you guys!
While home-made lunch boxes are great, nothing compares to a lunch of piping hot cup of soup right off the stove, or a freshly assembled salad or even a great bake to just dig in. And when you have the luxury of making these on a Friday afternoon, as I have had for the past few weeks, the experience matches only to that of eating a fabulous dessert
before
a meal. And that is the real spice which takes it to the next level!
My past Friday afternoon was exactly like this, and I made a delicious risotto to compliment the rains and the chill outside. Lemon and ginger added the perfect flavor combination for the muggy afternoon. A home-made chocolate cake followed, and then a tight afternoon nap on the couch made the Friday perfect! I wish all Fridays were like this!
Soak yourself into the flavors....
Ingredients:
Serves 2
1/2 lemon, juice
Zest of 1 lemon
1 tbs freshly grated ginger
1 bunch scallions, cut in rings
3/4 cup short grained rice (Do not wash the rice)
3-4 cups of vegetable stock or whey (You may need more depending on the rice that you use)
2 tbs butter
Salt & pepper
Method:
In a sauce pan, melt the butter and then add the white part of the scallions, lemon zest and ginger. Saute for about 30 seconds.
Now add the rice. Mix well until well coated. Then add 11/2 cups of stock or whey. Mix well and let it cook on a slow simmer. Continue adding the rest of the stock in 1/2 cups until the rice is cooked but still has a bite. Add salt & pepper. Mix the green parts of the scallion and lemon juice a few minutes before serving, leaving some for garnish.
Serving:
Serve hot in warm bowls. Garnish with the remaining green parts of the scallions. You can also top with any sharp cheese of choice but do not let the cheese over power the flavor of the lemon and ginger.